Tennessee O'Hanlon
Tennessee O'Hanlon is an educator and performer on clarinet, bass clarinet, baritone and alto saxophones, and piano, She graduated from California State University Sacramento with a double emphasis in Clarinet Performance and Composition.
She started piano studies at age 5, clarinet at age 10, and saxophone at age 13. While in high school, she performed on baritone sax with the Monterey All-Star Jazz Ensemble in Japan. She played clarinet in the CMEA All State Honor Band. While in college, she played bass clarinet in the CBDA's Western Division Intercollegiate Honor Band and toured Europe with the Cal State East Bay Jazz Ensemble. Her vast and far-reaching musical experiences include her orchestral arrangement of Rialto Ripples, performed by the Sacramento State Orchestra.
She teaches privately on woodwinds and piano at her studio in Santa Cruz and at the Harker School in San Jose. She currently performs with the New Flamingo Swing Orchestra, the Speakeasy Three, and Trio Saudade. She owns and operates her own music agency.
Tennessee plays #4 Bravo Clarinet Reeds and #3 Alto Saxophone Reeds, with Reed Boosters. She uses #3 tenor saxophone Bravo Reeds on her bass clarinet and looks forward to switching to Bravo Baritone Saxophone Reeds when they become available.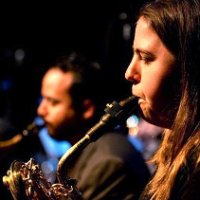 The Peacocks, CSU Sacramento @ Monterey Jazz Festival, 4-6-08